What to Know before Purchasing a Grain Mill/Flour Mill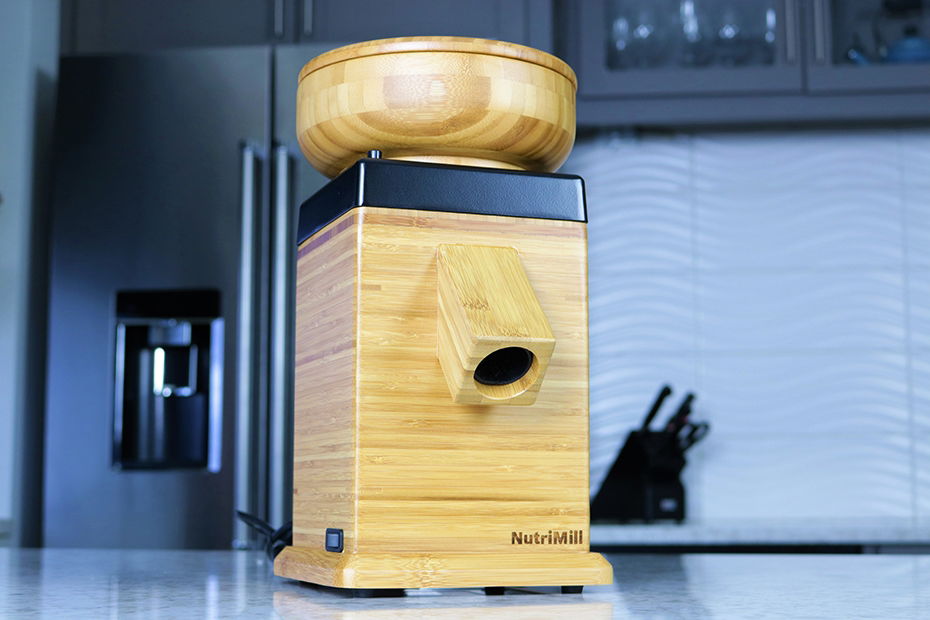 Featured above is the NutriMill Harvest Grain Mills with the beautiful bamboo body. 

So you're interested in purchasing a grain or flour mill from Everything Kitchens? There are a few things to consider before you pull the trigger. Ask yourself the following questions:
1. Do I want a manual or an electric grain mill? Manual grain mills require a good deal of time and endurance to operate, and these excel at coarse flour. Electric mills require power and are best for very-fine flour, like that used for pastry. One of our electric mills can even be used manually in the absence of power. See the reviews below.

2. What will I be using my flour mill for? The grind consistencies vary between models and types of flour mills. Consider whether the grain produced will be fine or coarse enough for the application at hand.

3. Is a flour mill that produces excessive noise going to be an issue for me, my family, or my neighbors? Some flour mills can be very loud. Electric impact-chamber types are necessarily loud due to the mechanics involved, though some units handle this better than others.

4. Will flour dust from my grain mill be an issue? Small children and people with asthma may be adversely affected by grain dust in the air. Manuals tend to produce less ambient dust than electrics.

5. What is my price range? Everything Kitchen's grain and flour mills range, at the time of this writing, from around $100 all the way up to $500. The reviews below will attempt to highlight and compare the features found in our entry-level and top-quality flour mills alike. 
The most popular electric mills we carry are the NutriMill, and the Wonder Mill (formerly the Whisper Mill Grain Mill). We will highlight the pros and cons of each of these grain mills.
 
---
Electric Grain Mills
---

NutriMill Grain Mill
The NutriMill Harvest Grain Mill is outfitted with the Easy-adjust texture control knob. This smooth operating, single knob control allows you to easily and quickly dial the grind level you wish to produce. The grain mill ceramic grinding stones create a low-heat milling process that does not destroy vitamins and minerals. It has been designed and made in the USA with careful craftsmanship for healthful, efficient milling. The large hopper holds 3.5 cups, and you can add more as milling progresses when you have larger needs. The folks at NutriMill also remembered that you want style in your kitchen. The function, technology, and tradition of the NutriMill Harvest Grain Mill is packaged beautifully in bamboo housing. 
For large capacity milling, check out the Nutrimill Plus that offers a 24 cup capacity. The powerful 1200W motor can mill through your grains and even has the ability to mill directly into a storage bag making this a low-mess milling solution. The Nutrimill Plus has 4 filter stages to separate impurities from your grains. 

Wonder Mill
The Wonder Mill Grain Mill is extremely easy to use. Simply fill the hopper and out comes flour. There are no small parts or gaskets to misplace, and the self-cleaning WonderMill is quick, easy, and virtually dust-free. There is no need for additional attachments to bag your flour simply put a plastic bag in the canister and grind. The Wonder Mill Grain Mill (formerly the Whisper Mill) has a still an impact-chamber mill, the Wonder Mill generates quite a bit of noise. The grinding consistency is adjustable, ranging from fine to coarse flour yields, but will not accommodate very-coarse types like corn grits and bulgur wheat. This model will have no trouble with most non-oily grains.
The Wonder Mill Grain Mill has no option for manual operation, and can only grind 12 cups at once. This unit has stainless-steel grinding blades and a self-cleaning milling chamber. We recommend this one for people with respiratory problems, as this unit leaves less flour dust in the air than most other electric mills. If you are willing to pay a little more to save your ears and your lungs, the Wonder Mill might be for you.
KitchenAid
If you already own a KitchenAid mixer, their grain mill attachment could be a solution for you. The grain mill attachment is a low-cost solution that does a good job at milling smaller loads. KitchenAid's grain mill is only rated to mill a maximum of 10 cups of flour at a time, so if you are looking to make larger batches of flour, consider other options like the NutriMill. 
---
Manual Grain Mills
---
Marcato 
A low-cost manual grain mill from Marcato may be right for you if the Country Living Grain Mill is outside your budget. The Marcato Marga Mulino Grain Mill is made in Italy and perfect for milling small batches of fresh grain. You can choose from 6 different textures and the hand crank allows you to further control the texture. The Marcato also has an option to attach a drive motor to automate the milling process.  
Wonder Junior Deluxe
Easily make your own fresh milled flour including specialty blends, fresh ground spices & even freshly ground coffee using only one piece of kitchen equipment. The Wonder Junior Deluxe from Wondermill integrates US design with craftsmanship from the world's leading milling manufacturers in India. The Wonder Mill Junior is one of the most versatile & efficient hand mils in the market. The Wonder Mill Junior can grind flour faster & product finer pastry flour with only one pass. In addition to flour, this hand mill can grind spices, herbs, oily grains like flax & coffee & even produce nut butters.
Simple in design, the Wonder Mill Junior is easy to set up & use as a single unit that houses the heavy duty bearings, solid steel shaft auger & heavy double post clamp. Quickly change the head systems to switch what is being milled. The flour guide helps keep milled flour towards your container, bowl or bag instead of all of the table or floor.
We hope this article has shed some light on the different flour mills Everything Kitchens carries. If you need further help, please call one of our helpful customer service representatives at

 

(866) 852-4268

.