KitchenAid Artisan Stand Mixer Review
If you're going to invest your hard-earned money on a new mixer, you'll want one that will perfectly perform all of the tasks you ask of it, for years to come. However, not all mixers are created equal. Some mixers are better at kneading doughs, some mixers also transform into a multi-use appliance. At Everything Kitchens, we rigorously tested our top-selling mixers to find the perfect match for every cooking style. We literally got out our stopwatches and went through these mixers with a fine-tooth comb to see where each excels and where each could do better. 
---
---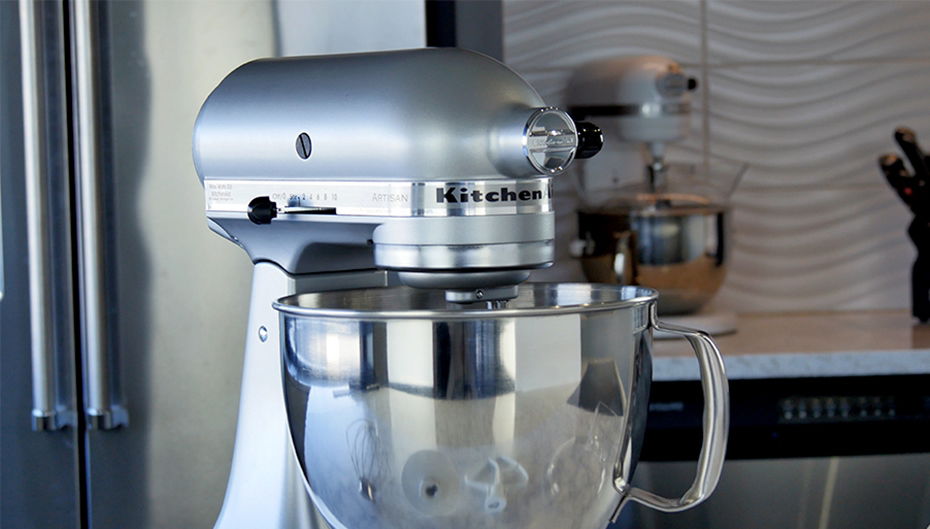 Quick Specs: 325 Watt Motor | 5 Qt Bowl | 1-Year Warranty | Weight: 24 lbs. | Height: 14" | 15+ Attachments Available 
Best For:
True multi-taskers. The Artisan tilt-head stand mixer has an acceptable level of power for mixing, whipping, and kneading, along with numerous attachments from KitchenAid for everything from chopping to juicing. KitchenAid is the King of Color Choices, so there are plenty of options to perfectly match your decor and lifestyle.
Pros: 
Enduring Quality - 

You know the old saying

 "If it ain't broke, don't fix it."? KitchenAid lives that creed. Their mixers are constructed of heavy-duty metal that lasts for years. Added bonus: A heavier mixer won't shake, rattle and roll during high-speed mixing

The Kitchen Workhorse - 

Overall great performance in every area of whipping, kneading, and mixing 

The Mixer That Matches You - Capture your cooking personality with over

40 colors of mixers

to choose from
More Than Just a Mixer - Plethora of attachments to turn your mixer into a 

pasta roller

, or an 

ice cream maker
Cons: 
Not For The Pro - Less powerful motor compared to the KitchenAid Professional and other price-comparable mixers. Mixing larger quantities of batter or thicker doughs could be a challenge for the Artisan. 
Obsturcted Bowl Opening - The tilt-head can get in the way of adding ingredients while mixing, the pour shield can sometimes help with this issue.
Clean the Bowl First - The stainless steel mixing bowl takes quite a bit of cleaning to remove all of the food safe mechanical polish from the factory.
Design & Construction
When you hear the name KitchenAid, the image of their iconic mixer pops into your head. KitchenAid's timeless design hasn't varied in many years because it works - if it ain't broke, don't fix it. KitchenAid captures your cooking personality with over 40 colors of mixers. We've been using our glamour-shot friendly Silver Metallic KitchenAid mixer - it's elegant and rustic at the same time, like the way I cook. I love when my kitchen tools reflect my cooking style. You can get a fun and care-free Apple Green mixer if you're the type who enjoys baking beautifully decorated cupcakes or a more refined and subtle Blue Willow mixer for those making authentic Italian egg pasta from scratch. Whatever you love to cook, there is a perfect color KitchenAid mixer to reflect who you are in the kitchen. 
Our Silver Metallic Artisan Mixer weighs a hefty 26 pounds which makes this metal body mixer feel incredibly sturdy. Underneath the hood is a 325W motor that powers the mixer featuring all metal gears with one nylon gear which is there to protect the motor. If for some reason, the beater stops turning, this gear will strip before the motor burns out.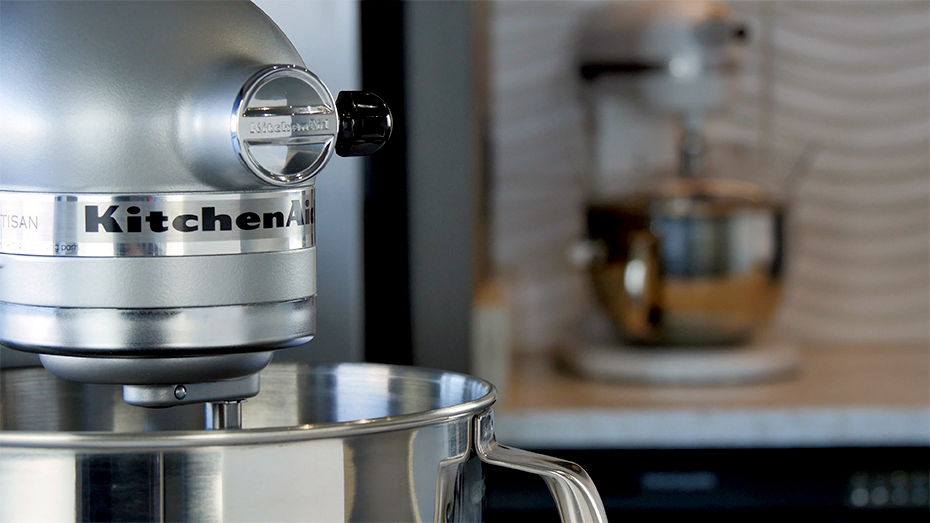 KitchenAid is master of multi-functionality. Remove the silver cap and reveal the attachment hub to turn your mixer into a pasta roller to meat grinder.
On the front of the mixer underneath the silver logo cap is the attachment hub. This is my favorite feature about the KitchenAid Artisan mixer - the attachment hub allows you to utilize the powerful motor to power a slew of attachments that connect into it. Everything from pasta rollers and cutters to vegetable spiralizers can be attached to your mixer to make it a true multitasking machine. 
On the sides, you'll see the speed control switch and the locking switch. Both are pretty self-explanatory and work simply. Move the speed control switch forward to increase speed and backward to decrease speed. The locking switch anchors the tilt-head down while mixing so it does not jump around. 
When you have the locking switch unlocked, you can tilt the head of the mixer backward to insert the stainless steel mixing bowl (beautiful glass bowl available too!) and lets you load your mixing attachment. 
Included Accessories
KitchenAid includes all the tools you need to for all your basic mixing task: the flat beater, dough hook, and wire whip. 
The standard trio: wire whisk, dough hook, and beater blade featured above.
The flat beater is metal coated with an epoxy/polyester hybrid making the beater non-stick and dishwasher safe. The coating makes the tool easy to rinse off in the sink as nothing really sticks to it, so my beater blade never hits the dishwasher. The only downfall is that the coating can chip if dropped, but KitchenAid does offer a stainless steel beater blade with no coating.
The dough hook (also coated like the beater blade) is shaped and designed to knead doughs right in the mixer bowl. 
The wire whip is very sturdy feeling and plenty large enough to whip multiple batches of meringue or whipped cream. The wire whip is not coated, so hand wash only or it can corrode over time if it's continually washed in the dishwasher.
The stainless steel mixing bowl is large enough to mix a double batch of cookie dough (around 8 dozen cookies) or mash up 7 pounds of potatoes at max capacity. The bowl is dishwasher safe. 
The "c-clip" design makes it easy to install the pouring shield in a variety of orientations.
Also included is a pouring shield. This tool sits on top of the mixing bowl and gives you a chute to easily add more ingredients while mixing. 
Test Drive
To test the beater blade, we made my Great Aunt Rose's Chicago chocolate chip cookies, full of chocolate chips, oats, and corn flakes. The KitchenAid Artisan did a great job creaming butter and sugar together. The mixer evenly incorporated all ingredients with no unmixed streaks. The mixer did start to jump around a little bit when adding in the solid chocolate chips and oats, but still mixed in everything evenly. 
The Artisan evenly kneaded our pizza dough without a hitch.
For the wire whip, we tested with amounts of egg white. When enough air is incorporated into egg whites, they become foamy and fluffy to be used for meringue or souffle. If you've ever tried to do this by hand, you know how much of a workout it is. KitchenAid did a perfect job whipping 1/2 cup of egg whites into stiff peaked meringue. The only thing KitchenAid couldn't do was whip 1/4 cup of egg whites, the whip was just a little too high from the bottom of the bowl. Typically, you won't be mixing this small of an amount of anything, so for minuscule batches, stick to a standard hand-held whisk. 
We tested the dough hook out by making fresh pizza dough. Pizza dough is very sticky and is a pain to knead by hand. The KitchenAid Artisan produced a stretchy dough ball and incorporated all of the ingredients leaving nothing sitting in the bottom of the bowl unmixed. We did notice a small amount of rocking around when the dough ball started to form, but nothing the mixer couldn't handle.
Attachments
What I love most about the KitchenAid Artisan is that it's more than just a mixer. The Attachment Hub in front of the mixer can be loaded with one of many attachments. Turn your mixer into a grain mill, ice cream maker, or vegetable spiralizer - there are over 15 attachments for your KitchenAid Artisan that will transform it into another appliance. If you're wanting to grind meat or chop vegetables, the Artisan can do it, but for a smoother experience, we recommend the KitchenAid Professional 600 with its more powerful 575W motor (compared to the Artisan's 325W motor).
Say the word "mixer" and a lot of folks hear "KitchenAid." There's a good reason for that. KitchenAid has created a timeless design that hasn't been changed much in many years - because it works. The all-metal bodies, easy-locking tilt-heads, and their legendary durability define the reputation of KitchenAid mixers. The KitchenAid Artisan we tested is a workhorse that makes you realize why everyone and their grandma have one in their kitchen. Whether you're making a meringue, a few dozen cookies, or a stretchy pizza dough, the KitchenAid Artisan has the power do it, and do it well. Not only did the Artisan perform the task easily, it looked good while doing it. The Copper finish mixer we have residing in our test kitchen is one of the many beautiful color options to choose from. Combine this with the numerous attachments from KitchenAid to turn your mixer into a pasta maker or juicer and you can see why so many people choose KitchenAid as their mixer (and multi-tool) of choice. 
The Artisan is the most popular KitchenAid mixer we sell, but it may not be the right fit for you. We have mini mixers and huge professional mixers from KitchenAid too. For a complete overview of what KitchenAid has to offer, check out our KitchenAid Stand Mixer Shopping Guide to find the one that fits your kitchen. 
Most Popular Mixer Colors