Top 10 Gifts for Father's Day - Gift Guide 2023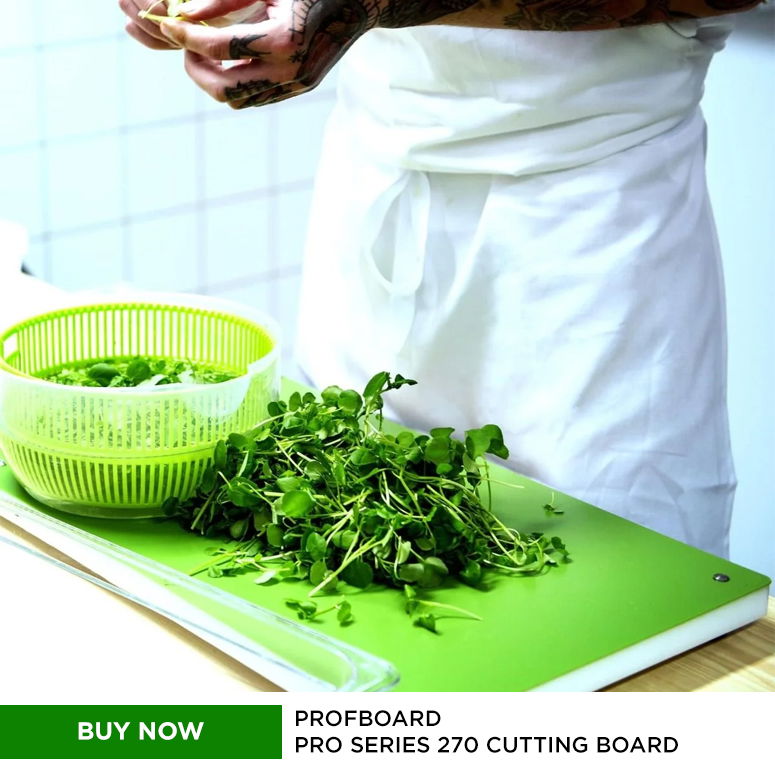 #10 Slice your way through food prep tasks with unmatched efficiency using the Profboard Pro Series 270 Cutting Board! This cutting board lets you stay organized and sanitary while preparing a variety of foods. Each sheet represents a specific knife task, from slicing raw meat, to chopping veggies or cheeses, and even to denote when food is serving ready. Save time on washing your board between kitchen duties with this convenient addition to your kitchenware collection.

One board for every chopping task -

Reduce kitchen clutter with one board that includes multiple color-coded cut mats. The specially designed Easy Click system keeps sheets neatly secured to the board for convenient access. Six cut sheets are included with the Profboard Pro Series and extra sheets are available!

Speed up your Cooking -

Swap between dicing chicken to chopping lettuce by quickly trading out cutting sheets. Move and bend the cut sheet to add ingredients directly into the pot. Reduce the need to wash the board between slicing task.

Made in Denmark -

Made and designed for passionate home cooks. Profboards are made from a

high-density polyethylene resin that can be recycled or disposed of in an environmentally friendly manner
---
#9 Say goodbye to frozen pizza or delivery when you can craft your artisanal stone-baked pizza in the comfort of your backyard with the Ooni Karu 16 Multi-Fuel Pizza Oven! Made with a carbon steel shell and cordierite stone baking board, this pizza oven allows plenty of space for 16" pizzas, whether ricotta & spinach, Bismark, Scottish deep-dish, St. Louis style, Fugazzeta, and more. If pizza is not your thing, consider using the Koda Pizza Oven for other meals like roasted meats like tomahawk steaks, seared veggies, and fresh bread! With its streamlined and impressive design, it provides multiple fuel options for maximum cooking versatility: cook with wood, charcoal, or use gas! All it takes is just 15 minutes of preheating your pizza oven to 950°F and then creating fresh pizza in 60 seconds, thanks to its advanced thermal engineering.
---
#8 Keep your cast iron cookware in pristine condition with the Everything Kitchens Exclusive All-Natural Cast Iron Care Bundle! This bundle includes cast iron soap and cast iron oil that are made with 100% all-natural plant-based ingredients and are free of sulfates, phosphates, parabens, & petrochemicals, as well as non-GMO, vegan-friendly, gluten-free, & cruelty-free. The cast iron soap gently cleans cast iron cookware without stripping it of its seasoning and is delicately scented with lemongrass & rosemary pure essential oils that naturally eliminate bacteria & unpleasant odors. This soap will never leave a sticky residue or affect the flavor of food, and it's even gentle enough to use on hands!
---
#7 Curl up with a cozy blanket and a warm cup of coffee brewed with the Black and Copper Coffee Maker by Haden! The bold black and copper colors and timeless design make this coffee maker an attractive addition to any countertop. This coffee maker features a keep-warm function that keeps your coffee hot for 120 minutes, ensuring that your coffee never burns. The delay brew function makes your coffee just when you need it, and a 30-second anti-drip function prevents leaks when the carafe has been removed. The strength setting allows you to brew your coffee exactly the way that you like it. Add a gorgeous appliance to your kitchen and enjoy the coffee you love every day with the Black and Copper 12-Cup Coffee Maker by Haden. 
---
#6 Transform your culinary experiences by tackling food prep tasks with the WÜSTHOF Epicure Slate Series! The Epicure Slate Series blends the efficiency & lightness of Japanese Cutlery with high-quality German steel, setting the standard for function & performance expected from kitchen knives. The specially designed bolster geometry and wider blade style allow all weight to be concentrated to the center of the blade, which allows for guaranteed agility and added safety. The innovative handle material is crafted from recycled wood fibers and resin, which allows for an earth-conscious production process as well as a high-quality feel. Crafted in "The City of Blades," Solingen, Germany, and backed by a limited lifetime manufacturer's warranty, the Epicure Slate Series will be ready to help you master anything in the kitchen. 
---
#5 Easily preserve and store your own farm-raised and homegrown food with All American 1930's No.921 Pressure Canner & Cooker in Saffron! Made of heavy-cast aluminum with a proprietary, premium cookware-grade colored coating, this pressure canner offers the same time-trusted design as the original 921 pressure canner with a colorful new look. Pressure canning is the only safe way to preserve low-acid foods, such as meats, fish, beans, squash, and melons. By processing foods at higher heat with the use of specialized equipment, pressure canning eliminates the worry of harmful bacteria - allowing you to easily fill your pantry shelves with homemade, worry-free foods that will keep just as long as store-bought canned goods.
---
#4 Amaze and impress your guests with unique, one of a kind garnishes made with Cedarlane's Spherificator Edible Food Pearl Maker. Spherification is the process of turning virtually any liquid into caviar-shaped pearls that can be used to elevate the presentation of any plate. When eaten, the pearls release an intense burst of flavor and are perfect for enhancing meals, appetizers, and cocktails. Allowing you to make over 700 pearls per minute, the Spherificator is the world's first automatic handheld pearl maker and comes with everything you need to bring a cool, modern style to your culinary creations. Perfect for chefs, bartenders, party hosts, gastronomists, or those who love the curious things in life, the Spherificator Edible Food Pearl Maker by Cedarlane is a gift guaranteed to astonish!
---
#3 When it's time to step up from an average kitchen grinder, it's time for the LEM Big Bite Meat Grinder. Designed for regular grinding tasks, this electric meat grinder grinds about seven pounds of meat per minute. Features include a stainless steel motor housing, all metal gears with roller bearings, a built-in circuit breaker, and a .05 HP induction motor that is permanently lubricated for quiet operation. LEM's exclusive Big Bite Technology allows the grinder's auger to grab large chunks of meat and quickly feed them to the grinder head for a superior grind in record time. Everything you need to grind beef, pork, and wild game comes with the LEM Big Bite Meat Grinder, including a meat stomper, knife, stuffing plate, two grinding plates, three stuffing tubes, and a large meat pan.
---
#2 As Blendtec claims to make the most advanced blenders, you can bet they didn't skimp on the details in creating their Immersion Blender! Crafted from stainless steel, this Immersion Blender comes bundled with a 16oz BPA-free chopping jar, a 20oz BPA-free blending jar, a stainless steel whisk, and a storage tray. With a powerful 350-watt motor, it comes with a variable speed dial to let you choose between 20 speeds for any blending, whisking, and chopping job. Operating it is simple, and its ergonomic soft-grip handle remains steady in your hand as you create delightful recipes from butternut and acorn squash soup, zesty pico de gallo with lime and cilantro, or your favorite cookie dough.
---
#1 Prepare a spring or summer barbecue, a smoked Thanksgiving turkey, or winter cravings for grilled steak with the aid of this WÜSTHOF 4pc Stainless Steel BBQ Tool Set! This set includes 13" perforated turner, 13" curved meat fork, 13.5" basting brush with two heads, and a pair of 14" tongs. These sleek stainless steel BBQ tools are WÜSTHOF's signature triple-rivet design with heat-resistant high-density POM handles construction. Take care to never expose the handles to direct heat or flame. These tools were designed with long enough handles to protect your hands from close proximity to heat while maintaining control. Built for balance, comfort, and easy access, there is a ring at the end of the handle to conveniently hang onto grill hooks.