Wusthof Knife Buying Guide - Series Overview - Gourmet, Classic, Classic Color, Amici, Crafter, Performer
*New collections have been released and some have been retired since the release of this video.
WÜSTHOF has been making exceptional cutlery carefully crafted in Solingen, Germany since 1814. Family-owned for seven generations, their knives are for both domestic and professional use. They have curated numerous lines of knives, each designed to fit different needs. Whether you are a burgeoning home chef, a recent culinary school graduate, or a professional cook, there is a collection of WÜSTHOF knives for you. In this article, we'll go through each of Wusthof's cutlery lines to help you to find the collection that is best for your kitchen. 
---
Wusthof Gourmet Collection
---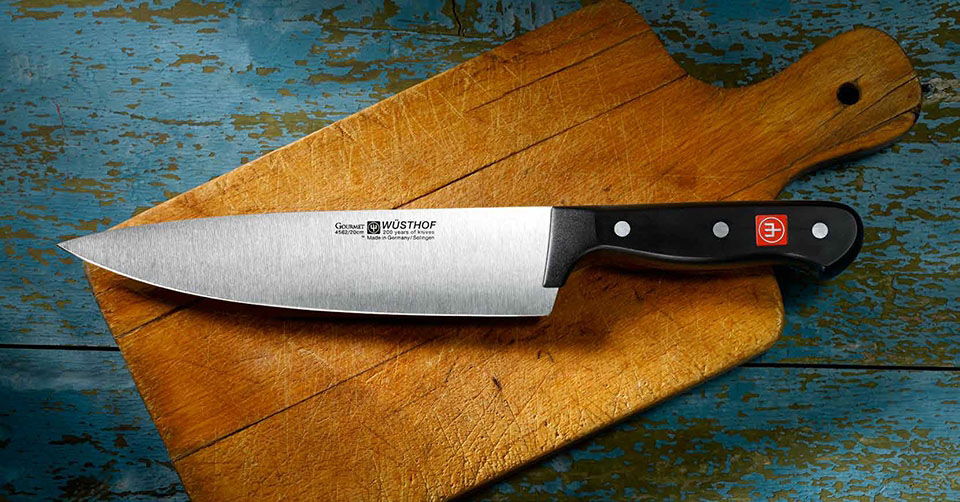 The WÜSTHOF Gourmet Collection is seen as the introductory line for home chefs just starting to build their cutlery collection. With a reasonable price point and riveted handles that are also used in the WÜSTHOF Classic Collection, these knives are a great starting point for any cutlery enthusiast. One of the biggest benefits of the Gourmet Collection is that it offers a wide range of knives and knife sets that are suited to any slicing task. Each knife in this line scores 56 HRC and is stamped as opposed to forged like other WÜSTHOF cutlery. Although this means they won't retain their edge as long, WÜSTHOF makes these blades with high-quality steel as with their other knives -  ensuring that, with proper care, these knives can outlast their competitors. The WÜSTHOF Gourmet Collection is a great choice for anyone looking for more cutlery options and willing to invest long-term care in their knives.
---
Wusthof Classic Collection
---
The WÜSTHOF Classic Collection is the best-selling line from WÜSTHOF and has been for generations. This collection features the widest selection of blade shapes with every knife forged from high-quality German steel. The blades of the Classic Collection are made using Precision Edge Technology which results in blades that are 20% sharper with longer edge retention compared to other knives. Each blade is hardened to 58 on the Rockwell Hardness Scale (HRC), which determines the blades' resistance to penetration by pressing a diamond-pointed cone into the metal. The handle of each Classic knife features a finger guard for safer slicing and is full tang, which means it is crafted around a single piece of metal that runs from the tip of the blade to the end of the handle - ensuring years of lasting quality. The handles are crafted from a unique poly material that resists fading, so you get a beautiful knife with no handle upkeep required. These design choices have kept the Classic Collection the cutlery of choice for home chefs for decades, making them the ideal choice for anyone searching for forged, full-tang blades from WÜSTHOF.
---
Wusthof Classic Color Collection
---
Welcome cutlery to your kitchen that captures and magnifies your personal style. WÜSTHOF's Classic Color Collection blends the high-quality performance abilities of the Classic Collection with the radiance of shades found in various corners of the culinary world. The Classic Color Collection harnesses youthful inspiration by complementing precision-forged, high-carbon German steel blades with vibrant handles that cater to modern, energetic aesthetics and those with a drive for culinary innovation. Each knife scores an impressive 58 HRC and is designed with an eye-catching triple-rivet, full tang handle with a finger guard for safer use. The colorful handles are crafted with a unique poly material that resists fading, ensuring vibrancy remains indistinguishable through years of use. The Classic Color Collection is both timeless and undeniably on-trend, letting contemporary chefs create a tool kit that not only allows for effortless slicing and dicing but also breathes the emotional depth of color into your food preparation. Make a monochromatic collection in your favorite shade or curate a co-coordinating colorway that will be unique to each chef - the Classic Color Collection offers 5 unique shades that look as good together as they do apart. Offering deep, rich shades such as Tasty Sumac and Velvet Oyster, as well as bold, vibrant hues like Coral Peach, Purple Yam, and Pink Himalayan Salt, this series suits any aura. Ultra-modern and undeniably diverse, the Classic Color Collection will bring your personality to every dish prepared in your kitchen. 
---
Wusthof Classic White Collection
---
The WÜSTHOF Classic White Collection offers the same made-to-last construction of the Classic Collection with sleek white handles that blend beautifully with a variety of kitchen decor when displayed. Available in multiple blade shapes and sizes, the Classic White collection is iconically versatile - suited to both novice home cooks and experienced chefs alike. Whether it comes to intensive meal prep, trimming herbs, breaking down various nuts, slicing through thick-skinned gourds and vegetables, cutting down your steak/poultry/beef for dinner, or even sharpening/honing your blades, the Classic White Collection offers a variety of blade shapes while granting you peak performance. Utilizing WÜSTHOF's Precision Edge Technology (known as PEtec), the Classic White blades are 20% sharper than standard knives with twice the edge retention for sturdy and efficient cutting and slicing. The full bolster (protective balancing point between the handle and blade) and finger guard ensure safer slicing by keeping hands at a greater distance from the ultra-sharp edges. Scoring 58 HRC, the knives of this collection will resist scratching and remain as stylishly sleek for years to come.  Experience the undeniable design and quality of WÜSTHOF Classic with a look more suited to your kitchen.
---
Wusthof Crafter Collection
---
Created for unique, dynamic cooks and designed with rustic touches throughout, the WÜSTHOF Crafter Collection features robust and luxurious knives built with the high-quality craftsmanship you love about their Classic Collection – with some notable modern upgrades. Precision-forged from a single piece of high-carbon stainless steel and scoring 58 HRC, knives in the Crafter Collection feature a smoked oak handle that is water-resistant and branded with their iconic WÜSTHOF Trident. Buffed by hand for a smooth and sleek finish, each knife is full tang and has a full bolster to provide ultimate balance and control during precise slicing, dicing, and cutting tasks. With interlocking triple brass riveting that gives these knives stability and a luxuriously old-fashioned look, the WÜSTHOF Crafter Collection knives are the perfect cutting companion for those who like to slow down and savor their cooking experience.

---
Wusthof Epicure Slate Collection
---
Transform your culinary experiences by tackling food prep tasks with the WÜSTHOF Epicure Slate Series! The Epicure Slate Series blends the efficiency & lightness of Japanese Cutlery with high-quality German steel, setting the standard for function & performance expected from kitchen knives. Each knife is crafted from a single piece of high-alloy X50CrMoV15 steel that has been treated with a laser-controlled precision sharpening technique - creating ultra-sharp blades with a 15° angle that score 58 HRC. The specially designed bolster geometry and wider blade style allow all weight to be concentrated to the center of the blade, which allows for guaranteed agility and added safety. Full-tang riveted for maximum strength and balance, each knife promises quality performance. The innovative handle material is crafted from recycled wood fibers and resin, which allows for an earth-conscious production process as well as a high-quality feel. The material offers the feel of natural wood handles with the added bonus of being as hygienic as synthetic handles. Finished with sleek black handles to match any kitchen decor, these knives will enhance your kitchen's style as well as food prep performance. Crafted in "The City of Blades," Solingen, Germany, and backed by a limited lifetime manufacturer's warranty, the Epicure Slate Series will be ready to help you master anything in the kitchen.  
---
Wusthof Ikon Classic Collection
---
The WÜSTHOF Classic Ikon Collection is comprised of modern knives for the modern chef, designed with clean lines and using the same handle material as the Classic Collection. This material resists fading so your knives will look as good years from now as they do today. The Classic Ikon Collection is made to provide a superior cutting experience with a double bolster, perfectly balanced blade, full tang construction, and durable 58 HRC blade. Although the Classic Ikon Collection will require more of an investment than the previously mentioned WÜSTHOF lines, this is an invaluable feature. While not as wide a selection as the Classic or Gourmet Collections, the Classic Ikon Collection does contain numerous knife styles and sets. This cutlery line is a great choice for those who are willing to invest more for the highest quality knives on the market and want to retain a modern aesthetic in their kitchen.
---
Wusthof Ikon Blackwood Collection
---
The Ikon Blackwood Series is called the jewel of the WÜSTHOF brand, and it's not hard to see why. The Ikon Blackwood series, (also called the African Blackwood Series) shares many similarities with the Classic Ikon Collection. they feature the same shape and general design and are forged from the same high-quality German steel as all WÜSTHOF blades, however, the Ikon Blackwood knives each have a handle made of their namesake wood. African Blackwood (Grenadilla) is one of the hardest woods in the world and as such it's extremely durable and resistant to swelling in changing humidity and temperatures. Beyond looking great, these handles are contoured for ultimate comfort and perfectly balanced with the blade. This combined with the ultra-durable 58 HRC blades creates an undeniably powerful knife collection suited to tackle any kitchen task. The Ikon Blackwood Series has fewer knives within it than the Classic Ikon Series, however, it contains all the basics needed to build a well-rounded collection. Between the high-quality steel of the blade, full tang, bolster, and unique handles, these knives come in at the highest price point of all the WÜSTHOF lines. For those who are willing to invest in these amazing knives, you will get beautiful cutlery that is built to last and will certainly become the jewels of your cutlery collection. 
---
Wusthof Amici Collection
---
Paying homage to the collaboration with Castello di Serragiumenta—a Calabrian castle that dates back to the 16th century—WÜSTHOF Amici Collection reflects on the phrase "la dolce vita," or the sweet life that all Italians have cultivated and embraced since the 1950s. This knife collection fuses contemporary craftsmanship with stunning Italian design delicacies to create the best knife for all meal preparations. The Amici Collection is forged from a piece of German steel and with a Rockwell Hardness of 58 HRC, giving it the intuition and agility you've always dreamed of in superb knife design. Pulling all the stops, this knife is set with a full bolster to protect your fingers as you hone in on true control with every slice. The handles of each knife in this series feature Calabrian olive wood handles, naturally water-resistant and antibacterial, tailored to an enunciated fluidity that will fit into the grip of your hand. Life is sweet, and your knives should emulate that enrichment. Love your kitchen and the way you prepare a meal with the immaculate Amici Collection from WÜSTHOF.

---
Wusthof Performer Collection
---
Designed with precision control in mind, the WÜSTHOF's Performer Collection's sleek black blades are enhanced by a black diamond-like carbon coating that makes them exceptionally strong, as well as heat-resistant, water-repellent, and scratchproof, ensuring they last a lifetime. The ergonomic handles feature a Hexagon Power Grip with a honeycomb design for a comfortable hold & ultimate control. Forged from high-carbon stainless steel, the Performer Collection features a Rockwell hardness rating of 104 HRC. The diamond-like carbon coating smoothly glides through ingredients of any texture and protects the blades from both scratches and moisture. These knives are equipped with a full bolster and finger guard to protect your hands and provide balance, while the elegant black finish makes them an attractive addition to your knife collection. The heat-resistant blades are nonstick and frictionless, preventing food, fats, and acids from sticking and allowing for effortless cleanup. No matter what you're whipping up in the kitchen, the Wusthof Performer Collection will offer knives that you want to use every time!

Learn More: